Fridge Origins and Patreon Bonuses
The "Self-Review" story was designed to serve as an introduction to the main cast of Classic-era Sam and Fuzzy... a new "first" story! But it wasn't meant to retell, overwrite or retcon any of the existing comics in "Volume Zero", which it takes place after.
Thus, "Fridge" -- the demonic entity living in Sam's refridgerator -- is already in place and settled in when he's introduced here! It didn't feel necessary to try and explain why he was there. After all, his original Volume Zero origin was barely explained anyway. From Sam and Fuzzy's perspective, Fridge just IS.
Of course, the full story behind Fridge's origins were ultimately fully explored years later in the "Six Years Earlier" storyline. But at the time I was writing this Self-Review story, I had finished figuring out what that origin was. So, I peppered his brief appearance here with vague references to those future reveals: that Fridge was not actually "Satan himself", and that he was waiting for something... namely, an opportunity to fix his ailing health so that he could abandon the appliance he was forced to take refuge in.
In other news: a metric ton of new bonus content is up now on my Patreon for this month, including a bunch of fun spooky art, and a slew of new 18+ comics and illustrations for Saucy Hippo backers. If you'd like to help support me and my work, and score a bunch of extra content at the same time, hit up my Pateron page for more info!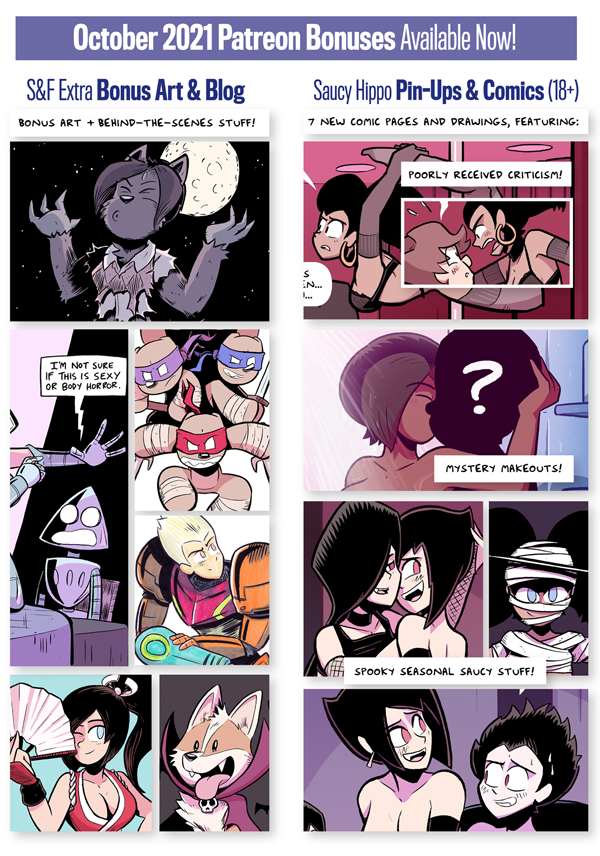 -Sam Logan