2012: Year of the 2012

Happy New Year! Let's kick things off right with a new comic. Assuming nothing goes wrong, there should be another 156 or so before 2013 hits!

True story: I inked the last panel of today's comic while I was on the ferry heading home to Victoria for the holidays, and for whatever reason, by the time I reached the last panel I was having trouble staying awake. You know what it's like when you start falling asleep in class and nearly fall forward and hit your head on your desk? That was me.

But I didn't really appreciate how far gone I must have been until the next day, when I was looking over the finished page. For reasons I can't even begin to fathom or explain now, I accidentally inked Devahi holding a large wooden board instead of a walkie talkie. See for yourself!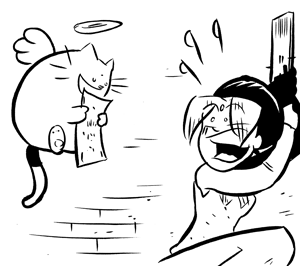 Remember, kids: Friends don't let friends ink tired.

-Sam Logan