New Volume!
This is it, friends! The most important volume of Sam and Fuzzy's thus far starts in earnest today! It's called Sam and Fuzzy Race to the Bottom, and the first chapter is Social Hacking. I hope you enjoy! It'll be a bit of a rollercoaster.
IN OTHER NEWS
Things to get! As you may have seen me mention on twitter or tumblr, I am currently doing a big promo on custom art commissions. Meanwhile (somewhat coincidentally), Topatoco is launching two new t-shirts from me today. That's a lot of stuff! Let me summarize:
To help put a dent in recent moving and home repair bills, I've launched a custom character art sale! Unlike my Sketch-Off sale events, this one isn't limited to Sam and Fuzzy characters (although they are allowed, too!) or a particular theme. Pet portraits, pop culture stars, silly/sexy pin-ups... all my usual specialties, or any other combo of character and costume/scenario you'd like! I know custom art isn't exactly an impulse purchase, but I've posted my sale prices for one and two-character pieces in a variety of sizes and colouring styles, so hopefully there's a range of options for various budgets.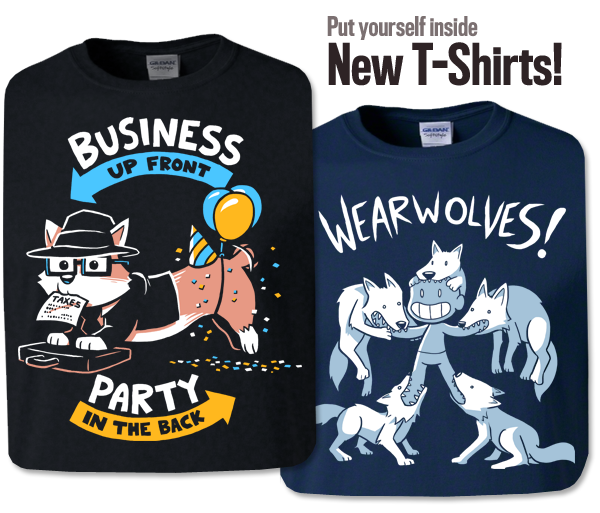 Meanwhile, I have two new shirts available! Business Up Front, Party in the Back is a brand new one starring everyone's favourite Corgi. (I had a lot of fun with this one.) And Wearwolves is... uh, Wearwolves. This design was technically created primarily by famous intergalactic Earth-humour expert Ambassador Xog. But I helped with the finishing touches, and I'm bringing it with me on the summer convention circuit, so we wanted to have it available in my online store, too.
Sometimes, readers who are keen to support S&F will ask me what "best" way to do it is... if I prefer readers spend their money one way vs another. Here is the truth: I prefer you get things you like! That's why I make so many different kinds of things. Merch, art commissions, Patreon... it is all equally appreciated and all helps me keep this free comics empire rolling.
We return on Wednesday with a new comic. See you then!
-Sam Logan